Lotte ~ a Luletti Rosehip Doll
£

270.00
Sold out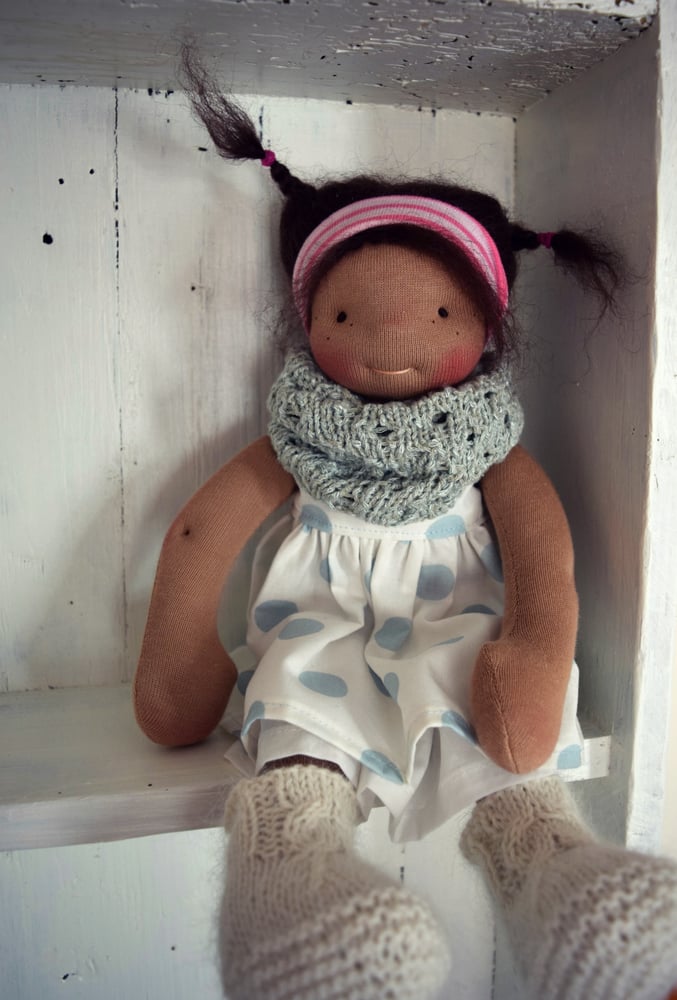 Lotte is a Luletti Rosehip doll.
She is a sweet and kind girl who never fails to find the joy and wonder in life.
Lotte is around 13.5" tall, with mocha skin and dark brown eyes. She also has a light sprinkle of freckles. Her hair is dark brown Brushable Mohair that I have crocheted into a wig.
Lotte wears a cotton dress in cream with light blue spots, a fine cotton petticoat, a light aqua coloured hand knit cowl, and Beige hand knit boots. She also wears a pair of stripe panties.
Rosehip dolls sit easily and unaided. They have elbow and knee dimples, and a lightly sculpted belly button and posterior :)
They are stuffed medium firmly.
Luletti dolls and clothes are all hand crafted using with all natural materials, a lot of love, many careful stitches and attention to detail. I use Swiss Tricot and lovely clean organic sheep wool and my own self drafted patterns. Features are hand embroidered and I use wool yarns and cotton prints for clothing. I also design my own knitting and sewing patterns for the clothes.
PLEASE NOTE
Luletti dolls are NOT intended as toys and are not suitable for small children due to long fibres, ties and small parts on the clothing.
I am only able to ship to the address given on the Paypal account that payment has been made by and will only ship dolls to countries where it is possible to use an insured delivery service.
This is available in the UK, the EU, Switzerland, Norway, USA, Canada, Australia and New Zealand.
If you live anywhere else please do check with me before purchasing so I can confirm if this service is available.